This weekend Daniel, James and I decided to take a road trip to D.C. so we could attend their Aunt Crystal and Shannon's baby showers. I had been talking about making this trip for months, and Shannon and I had been planning Crystals shower for the same amount of time.
Everything seemed to be going well until we got to Pennsylvania and it was snowing. Of course, I had decided to take Bryson's car (a forward wheel drive) over my 4 wheel drive to save money on gas. I thought I would be fine, and even if there was a storm, as Bryson drives his car everyday in Rochester and has never had a problem.
We did not hit really bad weather, but made it just in time to D.C. to sit in bumper to bumper traffic on the 270 for a good hour and a half. While we were crawling on the highway, I must have counted 50 or so cars stuck on the sides of the road in snow. People where actually walking on the sides of the road as well! All the exits were closed (as they had not been plowed), so we were forced to just sit in the traffic. Luckily the boys were asleep and were acting like angels.
We finally make off the 270 going towards Bryson's parent's home. On the home stretch (less than a mile from their house) I turn down a road and GET STUCK in the snow! Yikes. It is 1:30 AM and I have to call Frank (Bryson's dad) to come pull us out with his SUV.
By 3:00 AM the three of us were tucked in bed and finally asleep! It only took us 11 hours to make a 7 hour trip, but thank goodness we made it.
Unfortunately, that was the better half of my travels.
Just to lighten the mood of this post, I want to add that the showers turned out great. Shannon was truly surprised at her baby shower on Friday night, and Crystal had the most fabulous shower and opened so many wonderful gifts. And I even was able to sing in a quartet with my sister-in-laws that Sunday at church and then enjoy a great birthday dinner for Shannon.
The car had been damaged from being towed that first night, so it was in the body shop all Monday. I was worried that the damage was going to be serious and that we would not be able to leave for many days. Fortunately, later that afternoon they called us to say it was done, and we picked it up and took off for Rochester. The weather was clear, we had an abundance of snacks, water, and movies in the car- so what could go wrong? Right?
About 8 PM that night we are making good time when I hear (and see, after looking back) that Daniel has OPENED the car door while I am driving about 70 on the Penn State highway!!
I panic and pull the car to the shoulder as cars are whizzing past us. I quickly put the car into park and pull the door shut. After Daniel receives a serious lecture from his mom, and I take some deep breaths, I turn on the car to see that all the lights on the dashboard are flashing, the engine light is flashing, and my car is uncontrollably shaking. What has happened to the car?! I can barely drive it and start to get very nervous. I pull off the next exit to find there were only a few homes and forest. Then I get off at the second to find the same. I finally make my way to a gas station in Duncannon Penn. (which is surrounded by 2 nudie bars) and a truck stop. I pull the car into a lit area, lock the doors, and start making phone calls.
9:45 PM: I am on the phone with our car's service/towing center to find that they can come get us, tow us to the nearest body shop, but they cannot come for 2 hours and they can only transport 2 of us. They recommend hiring a separate taxi to take us to a hotel, but the closet taxi is 30 minutes away and was not going to be able to get us for an hour (it was also going to charge us an arm and a leg).
Meanwhile Bryson is at home trying his best to contact every car repair shop in the area as well as finding a tow truck. He is also secretly dealing with a flooding basement!! Of course he does not tell me about it, but our kitchen faucet is pouring water into the downstairs. Roto Rooter is on their way, so he is trying to deal with both situations.
10:45 PM: I realize after being on the phone that there is no way we are going to get this car fixed tonight. I also come to grips with the fact that we cannot be towed and there are no taxis within an hour or so from us. Daniel and I say a prayer (in which he quickly falls asleep afterwards) and I just decide to drive the car at a painfully slow pace (15 MPG) with my flashers on for the next 15-20 miles into Harrisburg where I am going to try to find a hotel near a car repair shop of some sort. The whole time I am driving, I am hoping that I am not damaging the car even more and that the car does not stop all together.
11:30 PM: I pull up to a Days Inn. There is one car parked out front and bars on the windows of the rooms. Something quickly tells me this is not a place to stay alone with two boys.
11:50 PM: I am driving around and pull up to this MUCH nicer looking hotel in which they have vacancy and even offer me a deal since they were out of pack n plays. I have to go wake the boys up and get all of our bags out of the car. Both boys cry all the way from our car to the room. Daniel is hysterical saying "this is NOT our house mommy!".
12:15 PM: We are in our room, pajamas on, and the boys are watching a movie and eating snacks while I am on the phone working out a plan with Bryson for the next day. I also talk to my parents who are trying to comfort me and offer good advise.
1:00 AM: All three of us (Daniel and I on the sides with James in the middle) are in bed and asleep. Well, maybe I was not truly asleep as I lay in bed wondering if I had 1) blown the transmission by shifting into park while the car was driving and 2) and hoping that we would not be stuck in Harrisburg for very long.
The next morning was nice. We had a big hot breakfast (Daniel loved that he was able to have 3 different types of juices and lots of different cereal, pancakes, eggs, and sausage) and quickly made it to Meinke where they were able to take us back to the hotel. And Bryson calls me to tell me his mom is driving from D.C. to help us and drive us back to D.C. if the car is really damaged. Bryson also tells me that he has been researching the issue all night and thinks he knows what has happened. He thinks it is a coil that often goes out in Audi A4s and it is easy to fix.
Cindy shows up at our hotel and next thing I know we get a call from the repair shop and it is just the COIL!! Yah!!! I could not have been happier. The car is fixed in 30 minutes, and Cindy has us packed up in her car headed to the repair shop. We hug and thank her, stop to grab some food, and our on our way HOME.
I walk in the door last night around 6PM. I hug bryson, take a long hot shower, and I fall asleep around 7PM. Bryson feeds, baths, and puts the kids down to bed for me.
What a weekend! I guess I have learned to always take an SUV (if you have the option to) and have a newfound respect for the snow removal here in Rochester. I am also very VERY grateful for all the family that helped us this weekend.
I AM SO HAPPY TO BE HOME!!!!!!!!!!
shannon's surprise shower/party at cheesecake factory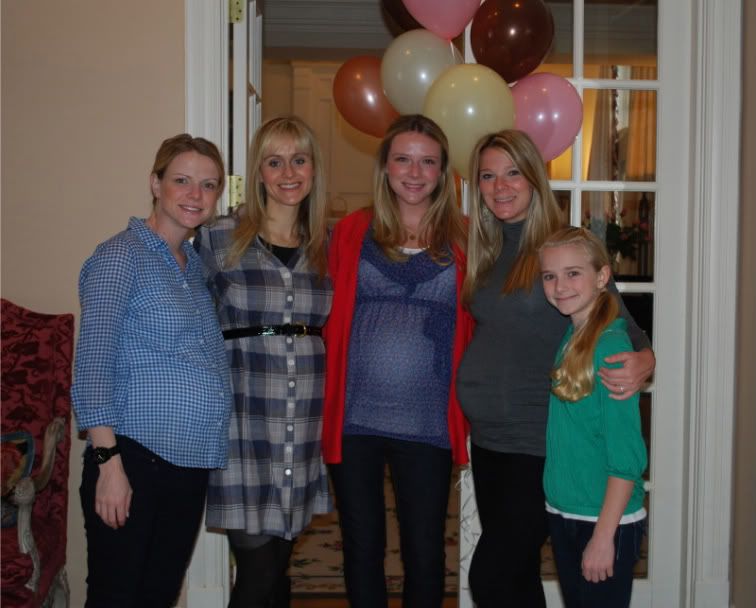 dayna, me, crystal, shannon, and elyse before the shower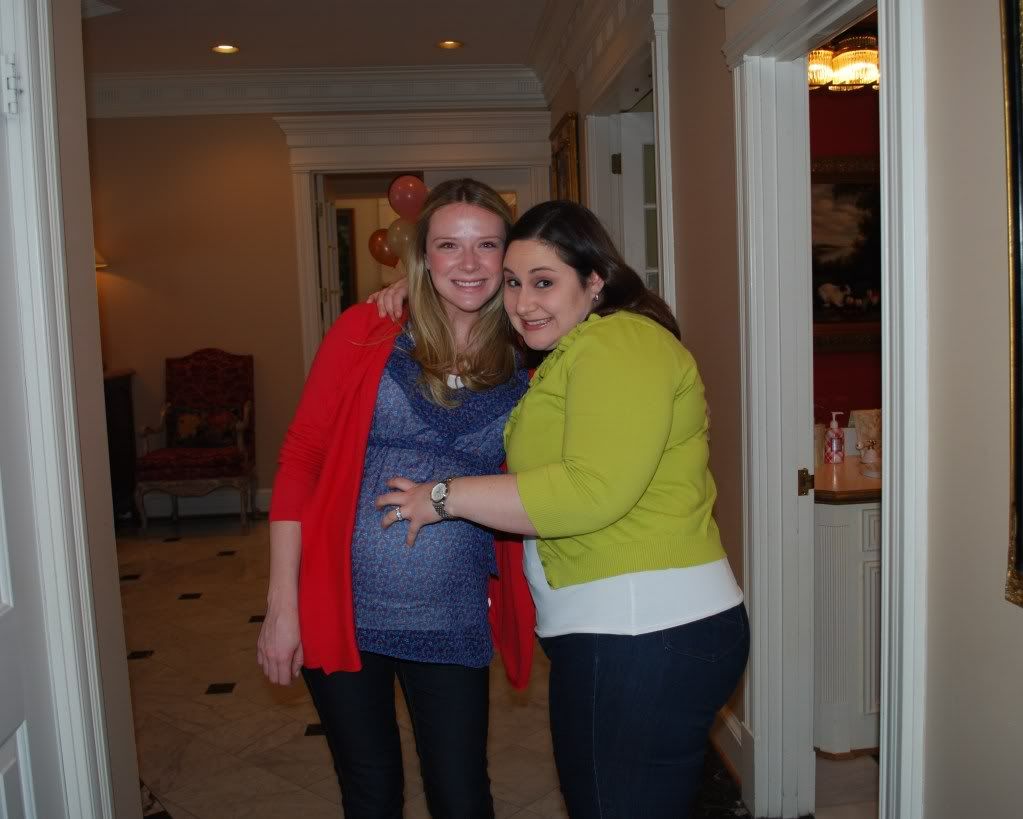 crystal (in the red sweater) and rachel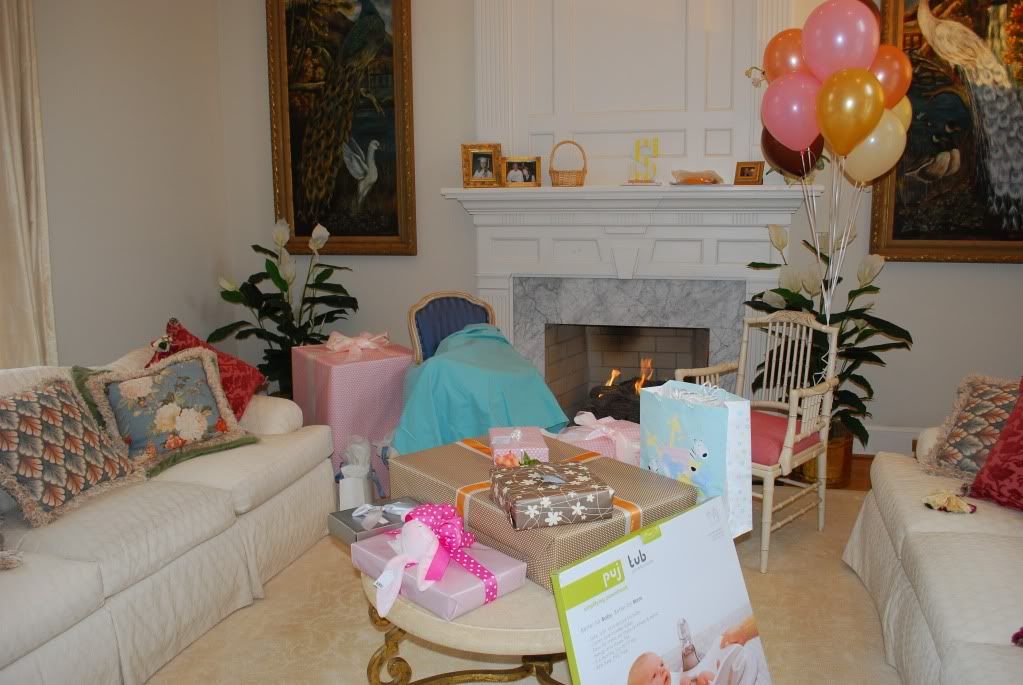 the gifts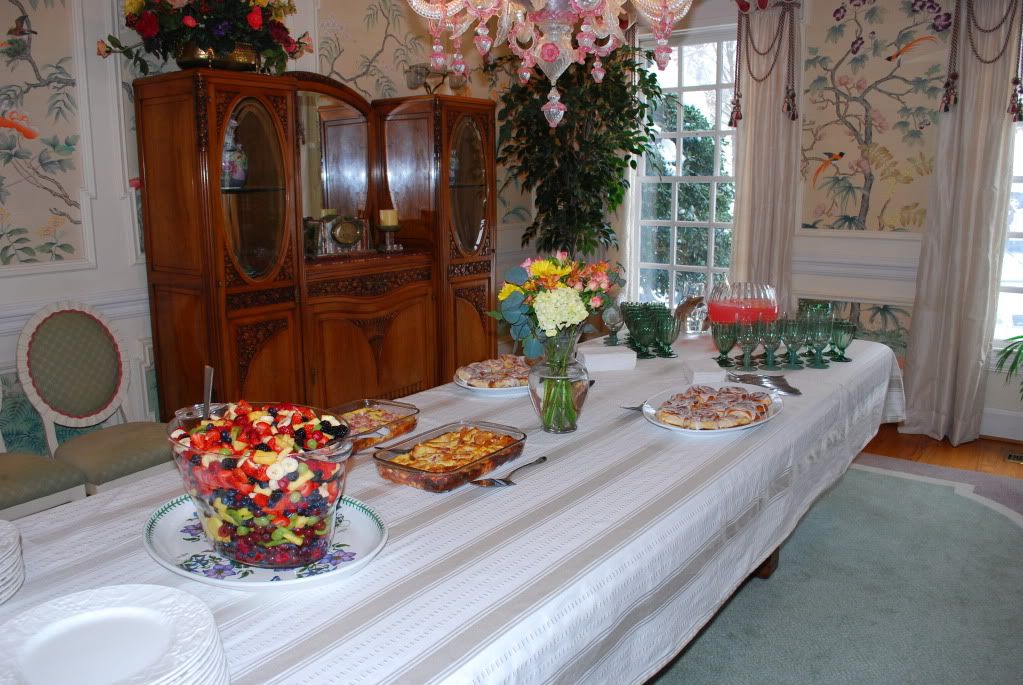 the food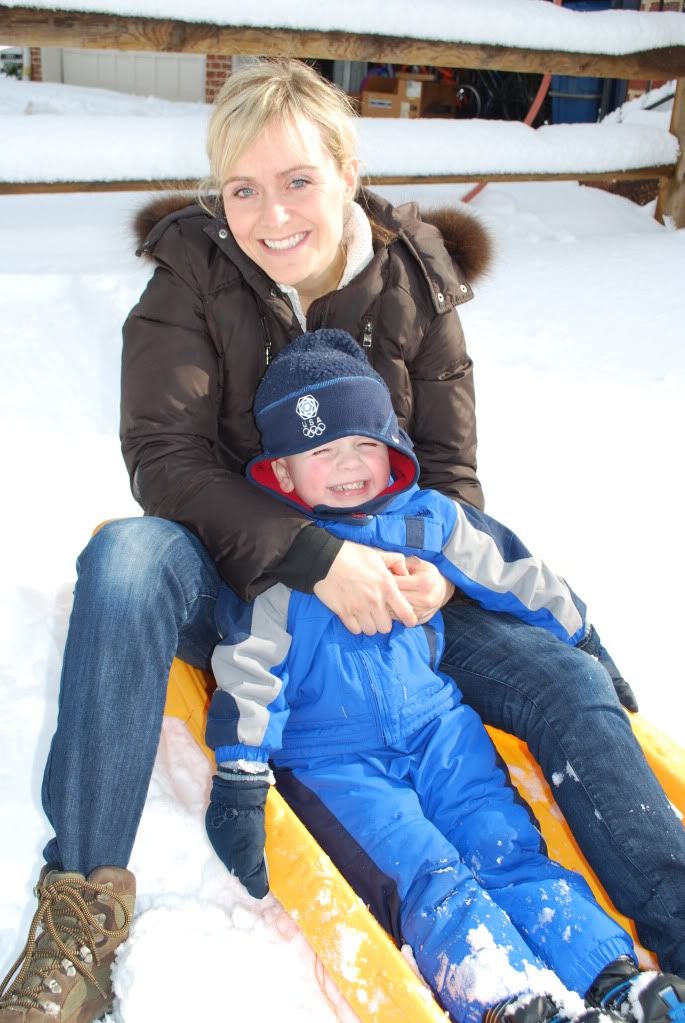 sledding in the back yard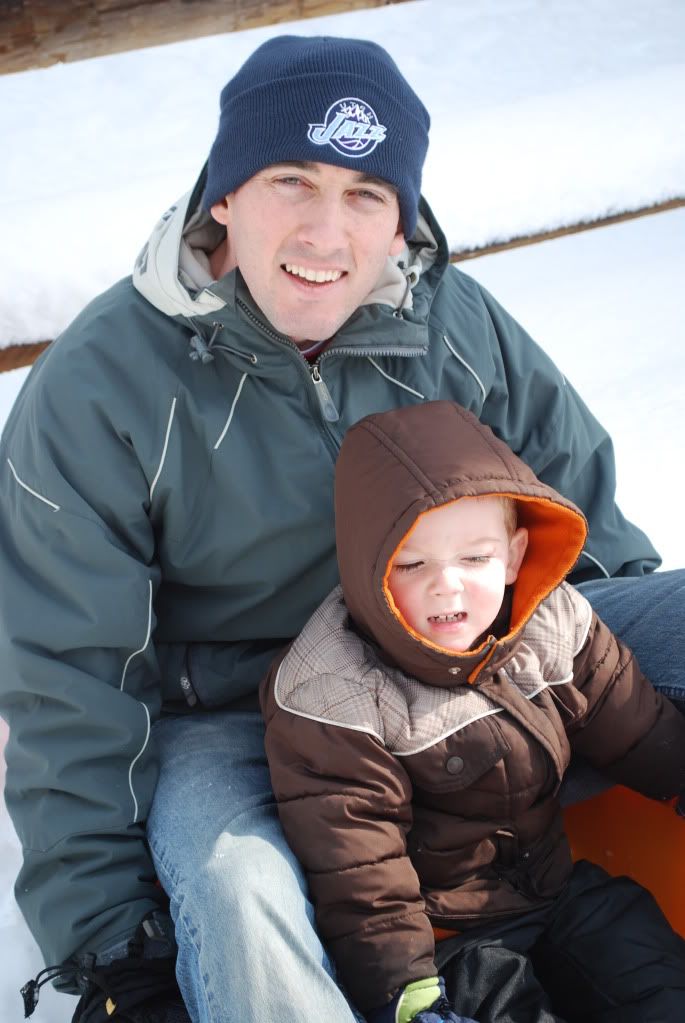 uncle kevin and jordan
daniel with grandpa frank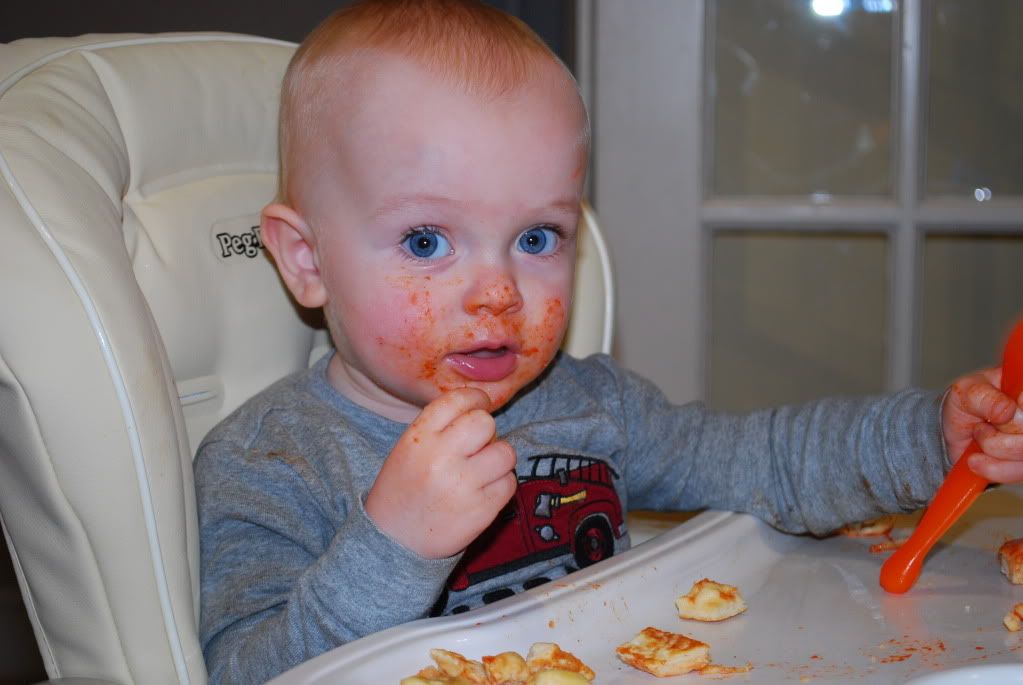 james having a snack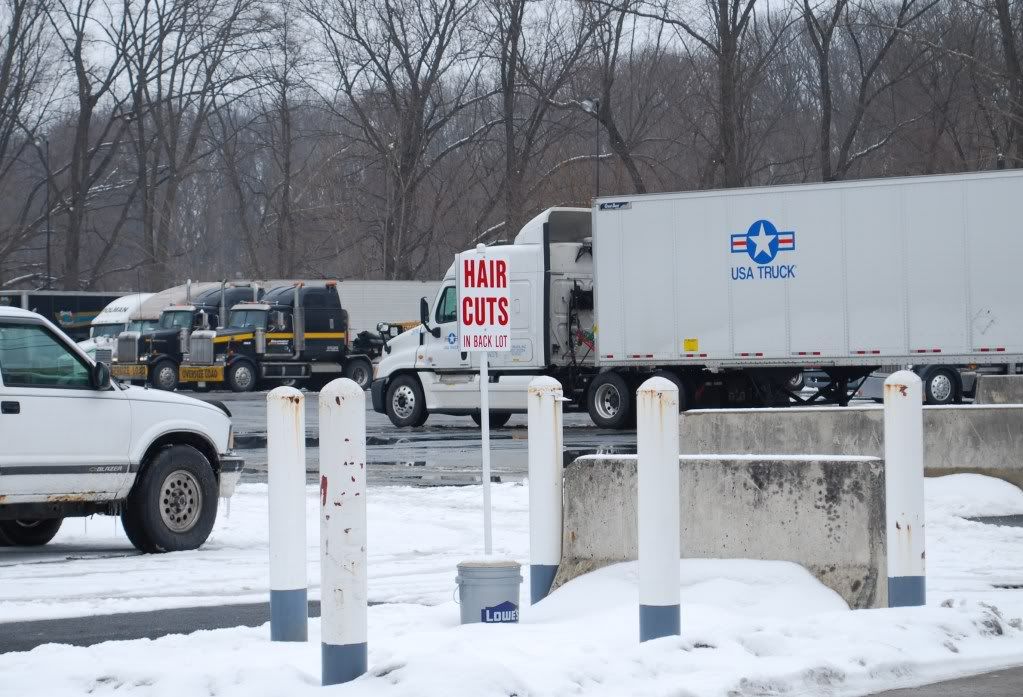 this is the gas station we spent about 2 hours at after we pulled off the side of the road 2 nights ago. we happen to drive past it on our way home (the 2nd time) yesterday, so i snapped some photos so you could see what a nice place duncannon Penn. is. and yes...the photo reads 'hair cuts the back lot'- yikes!!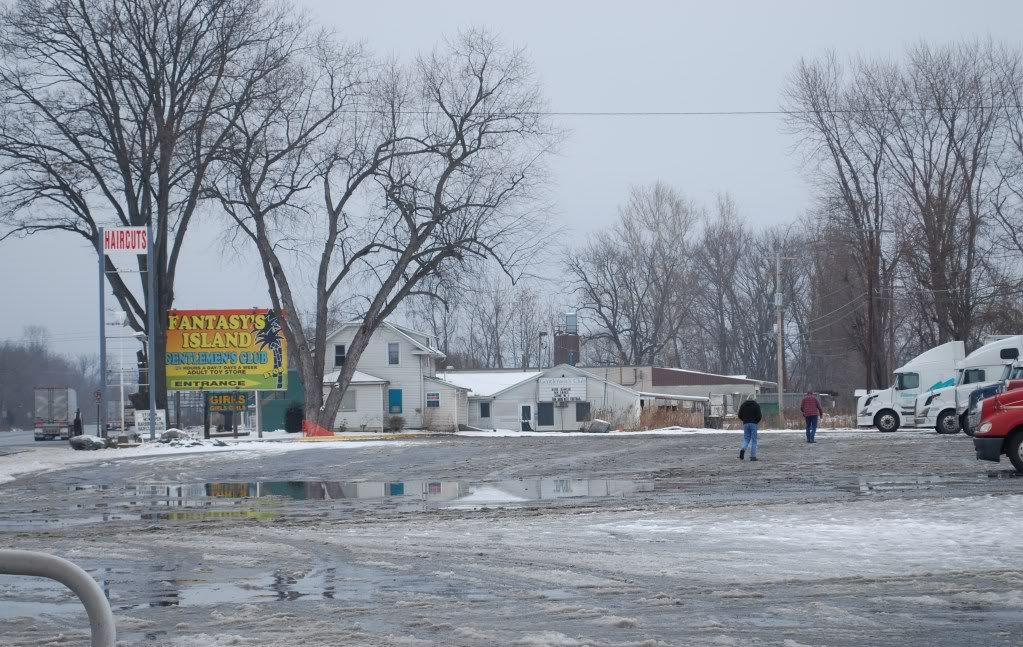 but nothing gives you a better feel for the area than this photo. you can see the classiness of the stop by the joint next door - 'fantasy island gentlemen's club'. what a horrible night!