I am sure if you have looked at my 'baby ticker' located to the right of my post, but if you do, you will see that I am due tomorrow. Yes, tomorrow! I am having a hard time believing this myself. This pregnancy has flown by for me!! Minus the first trimester, in which I felt sick pretty much all the time until around 18 weeks, this pregnancy has been great. I am really tired right now, but feel good otherwise.
We are all so excited to meet this little guy. We have a few names we like, but spending time with our babies seems to help us decide on the name (that, and the pressure of having to fill out a birth certificate before we walk out the hospital!).
Daniel is so excited. He asks me 4 or 5 times a day when his brother will be here. He want to touch my belly and will often talk to the baby. He has mentioned how he wants to hold the baby and feed him. He even offered to change his diapers, but specified only the "pee pee ones, not the poo poos". I know he will be a great help and will be gentle and loving with our new little guy.
James is a different story. He is very gentle with babies and is curious about them, but at 20 months, he still prefers me and walks around the house calling "mamma!" all the time (to make sure I am nearby). James wants to be held, wants to me hold his hand every where we go, and gets very jealous when I hold other babies. This could be interesting!
Here is a cute pic of my little Jamesie from a few weeks ago while he was asleep: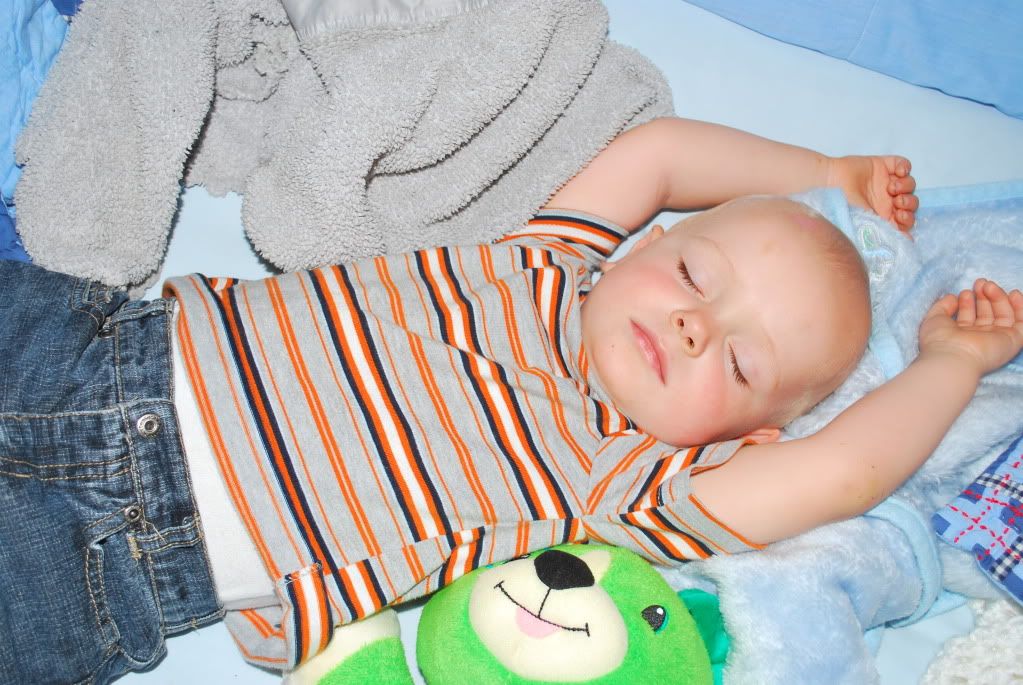 He is the sweetest little guy, and I know he and baby #3 will be great buddies, but bringing home a new baby will probably be a little hard on him for a few weeks (or months- maybe years, but hopefully weeks!).
Well, we will keep you updated. My mom flies into town tonight with my sister Stephanie. I am so excited to have them here, and SO SO SO excited to meet this sweet little baby who has been kicking me for months and months!!!